One of the most incisive documentaries about our modern day Halloween traditions is now available on DVD as a two disc set packed with so many bonus features it will blow you away.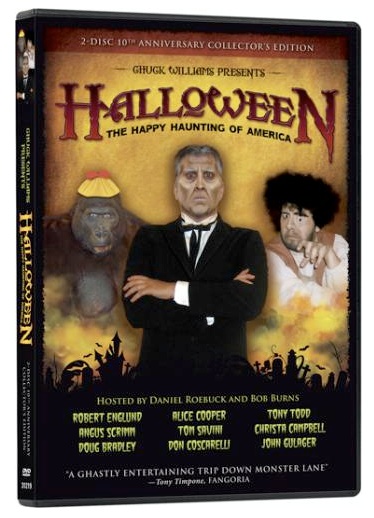 The documentary was produced in the late 90s and is hosted by character actor and monster fan Daniel Roebuck. The co-hosting duties are fulfilled by longtime fan and monster memorabilia collector Bob Burns, who has one of the most astonishing collections of movie props in the world stored in his basement. This guy actually has the full sized Alien queen from Aliens among his prized possessions and you may have seen him do interviews for multiple DVD special features like the Alien Quadrilogy box set where he shows off many of the pieces he received from FOX after production was completed on the James Cameron film.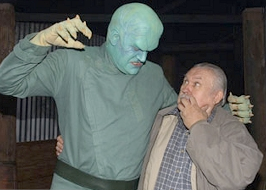 Burns was also well know in Hollywood for his yearly Halloween events where he'd turn his house into a Halloween extravaganza recreating scenes from multiple horror and Sci Fi movies like Alien, The Time Machine, and The Thing from Another World.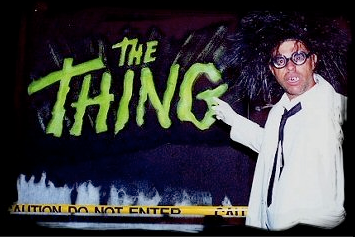 The Documentary gives us a look at Burns yearly events as well as other Halloween attractions such as Universal Studios Halloween Horror Nights precursor The Chamber of Chills, and the longest running Halloween attraction in the U.S., Connecticut's The Witch's Dungeon.
One of the best segments in the documentary is an in depth look at the history of Don Post Studios, the long running company that has been supplying fans with high end masks and accessories from their favorite horror and sci-fi flicks for decades.
This DVD set is an essential for any Halloween lover or classic monster movie fan. If you haven't seen it I suggest you order a copy before the end of this Halloween season. Its a fun watch and the amount of bonus material on the second disc feels like a follow up documentary. I'm not kidding there is a lot of stuff to go through on these two discs.
The DVD is available from amazon or directly from the
filmmakers
.
If you want to see more of Bob Burns collection I also suggest picking up a copy of his book "It Came from Bob's basement" which features a very detailed rundown of some of the items Burns has been able to obtain over the years as a monster movie memorabilia collector. The book was published back in 2001 by Chronicle books and can still be obtained used through multiple sellers on the web. I will be doing a full review of the book in a future post.