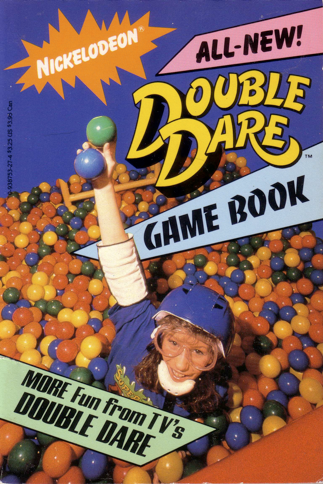 Straight out of 1989's "All New Double Dare Game Book" we present a collection of facts and trivia regarding the making of the greatest game show in the history of television.
- Marc, Harvey, and the producers of Double Dare have all run through the obstacle course. According to producer, Mike Klinghoffer, the Gumball Machine is the most fun.
- When the first episode of Double Dare was made they had to stop and start the obstacle course four times. Multiple problems included contestants not being able to find the flag since Marc Summers thought the producers had put the flag in the obstacle, and the producers thought Marc had done it, so there was no flag. When they restarted after putting the flag a cameraman got in the way , and the kids ran into him.
- Some obstacles are designed, but never make it to the show. For example, they tried to do an obstacle called the barber chair. The idea was, you'd pump yourself up high in the chair until you were high enough to reach the flag. The only problem was they couldn't figure out how you'd get down.
- One time the Double Dare tank was filled with vanilla pudding. The pudding was so thick when you'd jump in, you couldn't move.
- Double Dare used to tape in Philadelphia, until production was moved to Nickelodeon Studios in Orlando. The biggest difference according to producer Mike Klinghoffer was the weather: "We used to have to get down and scrub and clean everything on Double Dare. Now we just take it outside and hose it off."
- On the average, one out of every four teams makes it all the way through the obstacle course.
- All the drippy, messy food that is used on Double Dare is what they call "stale-dated" food. It's food that would otherwise be thrown out at the supermarkets. The producers never wanted to waste good food.
- During production of Super Sloppy Double Dare about 400 gallons of whipped cream are used a day.
Double Dare was a staple of my childhood and my friends and I went as far as putting together our own obstacle course in the garage. I truly would've given anything to be a contestant on Double Dare during my youth. Maybe I should throw my own Double Dare party as suggested in the double dare game book.